A fishmonger at Queen's Market in East London in UK has shot to fame with his "One Pound Fish" jingle.
An amateur video featuring Muhammed Shahid Nazir, aka the "One Pound Fish Man", has propelled the little-known fish seller into fame beyond his wildest dreams. The two-minute video, showing him peddling his fish at Queen's Market through a silly sing-along to anyone who would listen, has gone viral with almost 5 millions views since it was uploaded to YouTube on April 1, 2012 (yes, on April's Fool Day!).
"Have-a, have-a look, one pound fish. Very, very good, very, very cheap, one pound fish," goes the song.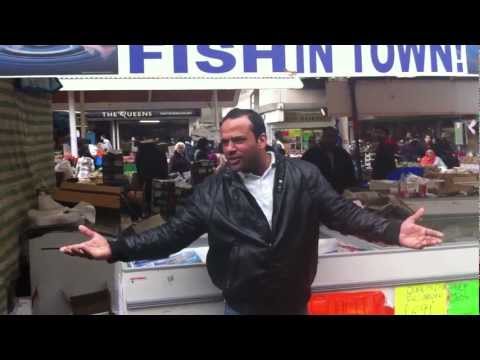 The 31-year-old shot to even more nationwide attention after failing to make the cut on Britain's reality music show, X Factor UK. However, he has since been signed on by Warner Music Group, releasing his first single aptly titled "One Pound Fish" in time for Christmas.
The video of the song, which has already hit 3 million views since it was uploaded on December 10, shows him singing the same song but in all its full glitz and glamour.