He is a six-year-old boy suffering from a form of autism that makes social interaction difficult but he is a gifted piano player.
Meet Ethan Walmark, the autistic boy who has become a YouTube sensation with his piano-playing talent. Music has become a therapy for him.
In this viral video, he plays an impressive rendition of Billy Joel's classic "Piano Man."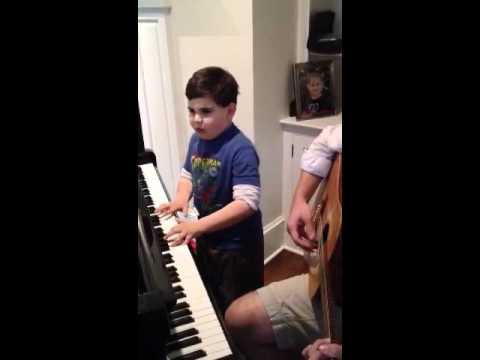 Looking coyly up at the camera, he trills out an introduction to the song, and then he's off, barely glancing down at the keys as he plays, clearly a natural.
Being too short to even reach the pedals, he stands by the piano, coming up to about shoulder height on the seated guitar player.
His parents, Mike and Alison, were wowed by his ability to play the Beatles' I Will on the piano by ear when he was just four.
And they have given him their whole-hearted encouragement ever since
'We just want our son to be happy, whatever that means to him.' Mike Walmark said. 'It's not about us anymore. It's about him.'
Ethan has 20 videos on YouTube of him performing hits such as Take on Me by A-Ha and James Taylor's Mockingbird with siblings and by himself.