ABC's late night talk show host Jimmy Kimmel is making a lot of enemies among kids with his latest Christmas prank which might be one of the cutest holiday pranks of all time.
In the spirit of the Christmas, the host challenged his 'Jimmy Kimmel Live!' audience to give their kids ridiculously awful Christmas presents under the guise of a "special early present"and to record their responses.
Creative parents from all over the country responded by submitting videos of their children freaking out and even breaking down in tears over receiving a half-eaten sandwich, a rotten banana, and girly coloring books! One boy throws a tantrum and declares his undying hatred for Santa upon receiving a "stupid hello Kitty dress". Toward the end of Jimmy Kimmel's video below, one mother says: "We thought really hard about what to get you." Her son's response…"Well you didn't do a very good job!"
Watch as the kids fall victim to the hysterical prank that their parents play on them.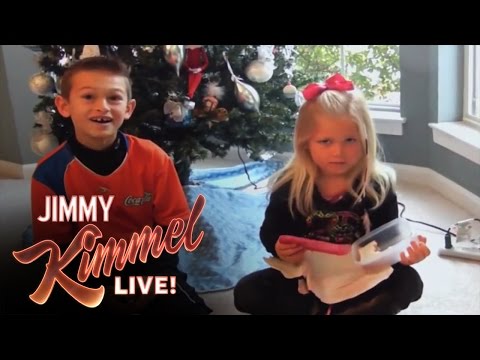 Hey Kimmel, kids are now saying this about you:
You're a mean one, Jimmy Kimmel.
You really are a Mr Grinch.
You're as cuddly as a cactus,
You're as charming as an eel.
Jimmy KImmel!
You're a bad banana with a…greasy black peel!
This is not Kimmel's first prank on kids.
Last Halloween, he persuaded his viewers to pretend they ate all their kids' candy and then video tape the reaction in his Halloween candy prank "I Told My Kids I Ate Their Halloween Candy."
Sit back and laugh your hearts out… it is cruel but undeniably hilarious!