Greyson Chance shot to fame singing Lady Gaga's "Paparazzi". Maria Aragon too catapulted into the limelight singing Lady Gaga's "Born This Way". Will Lao Lai Qiao Gaga be the next act to achieve stardom after singing their translated version of Lady Gaga's "Bad Romance"?
As part of the mid-autumn festival celebrations, China's Hunan TV aired an unique Lady Gaga cover: A choir performance by Lao Lai Qiao GAGA, translated as "Old Folks Going GAGA."
The performance opened with young girls playing traditional Chinese instruments made of glass, who then made way for the plain-clothes gang of old folks singing jovially to the tune of Lady Gaga's "Bad Romance." Providing their own lyrics in Mandarin Chinese, the old folks have moving sets and gently choreographed dance moves to make for an odd, but adorable performance.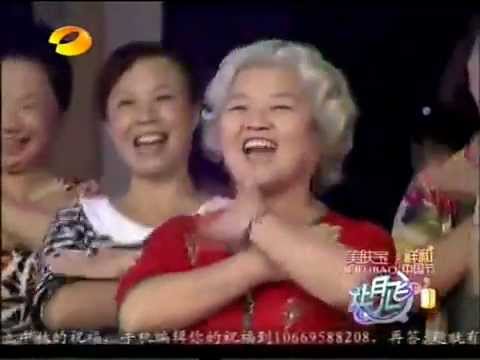 Despite the smiling seniors, their translated lyrics suggest a life of loneliness as opposed to Lady Gaga's raunchy lyrics about obsessive romance gone wrong. The choir sings about trying to stay amused in old age and failing to get the attention of their hard-working grown children:
Your working days are too many, you hardly ever come home
At the other end of the phone, you're always busy with no end in sight
Busy with no end
Busy, busy, busy without end.
Your old folks pass their days learning and finding ways to amuse themselves
Cut back on the little details, but HOLD on to those grand occasions
Have to HOLD on,
Hold, hold, hold, have to HOLD on.
Beloved son, watch the singing on TV
Your father and mother didn't make any mistakes, did they?
Tonight, HOLD on as you see Mum & Dad within a second GO GAGA!
If you're satisfied, please stand up and applaud
Don't make us too nervous
If you're happy, sing along with us
Give us our moment on stage
With Hunan TV being China's most popular satellite channel, the performance was seen by millions of Chinese people worldwide. And the video has gone viral. May the force of Lady Gaga be with you!