Yves Rossy performed a death-defying formation flight above the Swiss Alps alongside two L-39C Albatross jet planes from the Breitling Jet Team, the world`s largest professional civilian aerobatics team performing on jets.
Rossy, 51, jumped off a helicopter with his custom-built jet suit with a wing span of 2 metres which is equipped with four jet engines that enable him to travel at speeds of up to 186mph. Once the flight was completed, the adventurer safely parachuted back down to the ground.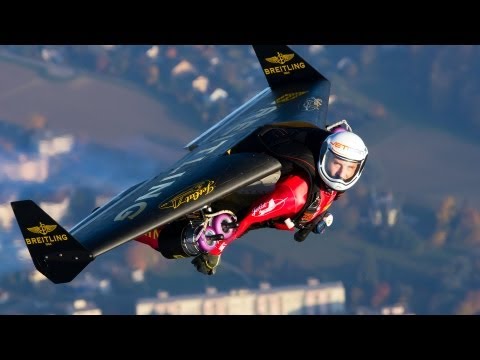 He is the first person in the history of aviation to achieve sustained human flight using a jet-powered fixed wing strapped to his back, a feat he first achieved in Bex in November 2006. This jet pack has led to his being nicknamed Jet Man, Rocket Man and Fusion Man.
Daredevil Rossy loves to fly, and he's practiced aerobatics, hang gliding, paragliding and skydiving. His website lists him as a polysportsman, excelling in activities on land, water and in the air. He doesn't just fly horizontally, though; simply by using his body he can also dive, perform figure-eights and execute 360-degree barrel rolls.
On May 15 2008, he made his first successful flight over the Swiss Alps for the first time and on 26 September 2008, he flew across the English Channel in 9 minutes 7 seconds, reaching a speed of 299 km/h (186 mph) during the crossing.
Born in Neuchâtel, Switzerland on August 27, 1959, Rossy was a professional military fighter pilot between the ages of 20 and 28 where he flew Hawker Hunter, Northrop F-5 Tiger IIs and Dassault Mirage III planes and logged more than 1,000 hours on a Mach 2 fighter jet. After his stint in the military he worked as a copilot on DC-9 and Boeing 747 planes for Swissair.
With his sponsors that include Swiss watch company Hublot and the German jet engine company Jet Cat, he spent more than $190,000 on developing his futuristic set of wings. The foldable wings are constructed from semi-rigid aeroplane-type carbon fiber, which make the material simultaneously light and strong, and are fitted with four Jet-Cat P200 jet engines modified from large-model, kerosene fueled, aircraft engines.
In November 2009, Rossy attempted to fly across the Straits of Gibraltar, hoping to be the first person to fly between two continents using a jetpack. He leapt from a small plane about 1,950 m (6,500 ft) above Tangier in Morocco in the direction of Atlanterra in Spain. The flight was expected to take about a quarter of an hour but, due to strong winds and banks of cloud, Rossy ditched into the sea, to be picked up ten minutes later by his support helicopter 3 miles from the Spanish coast. He was flown to a hospital in Jerez where he was later released. The Spanish Coast Guard later retrieved the jetpack (which had a parachute and a float).
On 5 November 2010, he flew a new version of his jet-powered flight system and successfully performed 2 aerial loops before landing via parachute. He launched from a hot air balloon piloted by Brian Jones at 2,400 meters (7,900 feet) and flew a total of 18 minutes before landing.
On 7 May 2011, Rossy flew across the Grand Canyon in Arizona, after the United States Federal Aviation Administration classified his flight system as an aircraft, waived the normal 25 to 40 hours of flight testing time, and granted him permission to perform the flight.