YouTube's most popular star Felix Kjellberg, better known as PewDiePie, has ruffled quite a lot of people's feathers when it was revealed that his company, PewDiePie Productions, brought in a cool $7 million in revenue last year.
Many people were shocked and outraged that someone just making videos for YouTube could earn so much. They think he just sit on his ass all day and yell at the screen. Filled with thinly-veiled jealously, they feel he has not rightfully earned the $7 million. A typical case of our grapes!
Love it or hate it, the 25-year-old Swedish is the King of YouTube. He is famous for his Let's Play videos, in which he runs through a game whilst providing his own opinions, often coupled with over-the-top reactions. He also releases short comedy sketches and partners with other big YouTubers on content. But he isn't just playing games but is actually connecting and talking directly to an audience. He appeals to an attractive demographic of teens and young adults.
Kjellberg 's coverage of indie games has an Oprah effect, boosting their sales considerably. With his videos, he's also raised more than $1 million for charity over the years through his "Bro Army" fan base.
Kjellberg, full name Felix Arvid Ulf Kjellberg, currently has 37.7 million subscribers on YouTube and about 9 billion views overall. When you consider that he receives ad revenue based on the number of views his videos get, it's not surprising that he's making serious dough. Taking the $7 million figure , that works out to almost 20 cents per subscriber. Hey, this guy has more subscribers than One Direction and Taylor Swift.
On Tuesday, Kjellberg uploaded a video titled Let's Talk About Money which has currently clocked up 3.6 million views. The video addresses the money issue, including a brief description of his not-so-glamorous life before YouTube.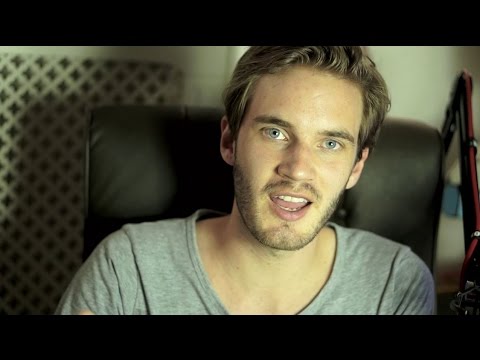 From humble beginnings working at a hot dog stand, he started making videos because he discovered a niche in the YouTube market — no one had the video game audience on lock.
Although some YouTube stars supplement their income with product placement deals, Kjellberg does not do very many.
"I make more than I need from YouTube," he wrote on Reddit. "With that freedom, but also to respect my fans for making that possible, I don't end up doing many endorsements."
Kjellberg created PewDiePie six years ago and, in December of 2012, he signed a deal with online video content creator Maker Studios, which is now owned by Disney. The original name for his YouTube account was PewDie ("pew" for the sound of a laser gun and "die" for death), but after he lost his account password he added "pie" to come up with a new account.
Besides YouTube videos, Kjellberg has pursued other ventures, including guest starring in an episode of South Park, releasing his own parody self-help book, and starring in his own mobile game called PewDiePie: Legend of the Brofist. PewDiePie is almost certain to become an even more prominent entertainment personality in the coming years.