William Hung is undeniably the most memorable "American Idol" reject. So what has Hung been up to since leaving the show?
William James Hung Hing Cheong (Traditional Chinese: 孔慶翔, Simplified Chinese: 孔庆翔,; born January 13, 1983), commonly known as William Hung, gained fame in early 2004 as a result of his off-key audition performance of Ricky Martin's hit song "She Bangs" on the third season of " American Idol."
Originally from Sha Tin, Hong Kong, Hung moved to Camden, New Jersey in 1993 and graduated from the John H. Francis Polytechnic High School in Los Angeles. He was a student at University of California, Berkeley, and later dropped out to pursue his music career.
While studying civil engineering at the University of California, Berkeley, Hung auditioned for the third season of American Idol in San Francisco in September 2003. He was the final auditioner on the January 15, 2004, installment, the coup de grâce of an hour-long episode that showcased other would-be pop stars, mostly lacking in talent.
"I want to make music my living," said Hung, before he started singing and dancing to Ricky Martin's "She Bangs". As judges Randy Jackson and Paula Abdul tried to restrain their laughter, judge Simon Cowell dismissed Hung's performance, remarking "You can't sing, you can't dance, so what do you want me to say?", to which Hung replied, "Um, I already gave my best, and I have no regrets at all." Jackson and Abdul applauded his positive attitude, with Abdul remarking, "That's the best attitude yet." Hung's response to Cowell's criticism starkly contrasts with the often confrontational rejoinders of other contestants. Hung added, "…you know, I have no professional training of singing and dancing," eliciting mock surprise from Cowell, who replied, "No? Well this is the surprise of the century." Hung was not admitted through to the next round.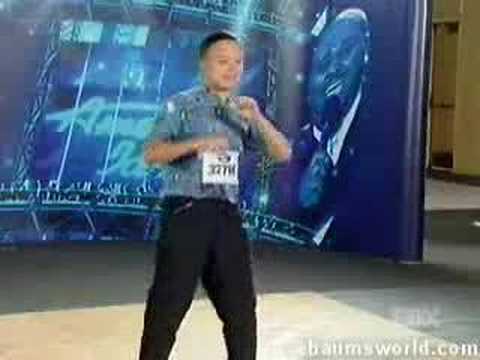 Hung's "She Bangs" audition went instantly viral and he gained a cult following. He incredibly ended up with a major record deal. He even ended up selling more records than some legitimate singers from "Idol," as his first album, Inspiration, actually shifted almost 200,000 units (please note that's 50,000 more copies than Season 9 winner Lee DeWyze's post-"Idol" album sold). William has since released two more albums, starred in commercials, and acted in two Hong Kong films
A William Hung fan site, set up by realtor Don Chin and his wife Laura, recorded over four million hits within its first week. Hung subsequently appeared on several television programs including Jimmy Kimmel Live!, On Air with Ryan Seacrest, Entertainment Tonight, The George Lopez Show, The Late Show With David Letterman, Countdown with Keith Olbermann, The Howard Stern Radio Show, The Ellen DeGeneres Show, Dateline NBC, Arrested Development and CBS's The Early Show.
Hung was featured in several national magazines and newspapers; he was parodied on Saturday Night Live and appeared on Celebrity Deathmatch.
Remixes of Hung's audition performance topped song request lists at a number of radio stations. An online petition to get Hung back to American Idol included more than 100,000 signatures by late February. Hung was brought back to American Idol as part of a mid-season special titled Uncut, Uncensored and Untalented, airing March 1, 2004. The special documented what it was like to experience the audition process and, in Hung's case, emerge as an inadvertent celebrity. Hung was crowned the Artichoke King of 2006 in Castroville, California's Artichoke Festival; an honor previously bestowed on Marilyn Monroe.
It is most interesting to note that Hung is now working for the L.A. County Sheriff's Department as a technical crime analyst.
"My passion has always been math. It just took a while to end up as my career," Hung told the L.A. Weekly.
But while William may be giving up his musical crimes to focus on actual ones, his "Idol" legacy remains intact. In fact, the L.A. Weekly just put him at number one on its top 20 list of all-time musicians.
"He is the greatest musician of all time because he epitomizes our highs, our lows, and our struggles to make ourselves heard," wrote journalist Ben Westhoff, insanely.
Hung apparently still bangs after all these years.