American Sarah Churman had been wearing hearing aids from the age of two, but had mainly relied on lip-reading, because 'hearing aids only help so much'.
She was fitted with a state-of-the-art hearing Esteem implant offered by Envoy Medical nine weeks ago, having spent her whole life in virtual silence. The Esteem implant is embedded in the ear and works through ear drum vibrations, unlike most hearing aids, which use microphones and speakers.
Her husband decided to film her as nurses turned on the implant and Sarah finally heard the world at full volume.
The video has gone viral, garnering more than now 3 million views since it was uploaded to YouTube on September 26.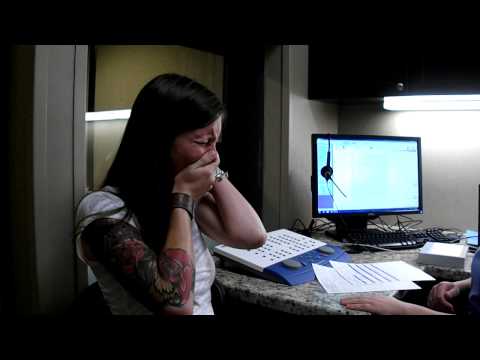 As a nurse switches the device on and asks if she can tell, Sarah nods in amazement and bursts into tears. She is so overwhelmed she can hardly communicate her feelings, laughing and crying as she covers her face with her hands.
Wearing a plain white T-shirt, with her dark hair falling around her face, she nods as the nurse asks if she can hear others and herself, adding: 'My laughter sounds loud.'
At the end of the video, when asked if she wants to hear her husband's voice, she can only cry even more, pressing a tissue over her face as her husband is heard chuckling with happiness.
Sarah is now finally able to hear her three-year-old daughter.
What a moving story! No wonder Sarah says 'God is good.'