The Rainbow Loom craze is spreading like wildfire worldwide and has made its creators wealthy beyond their wildest dreams.
The Rainbow Loom is a plastic pegboard (measuring 2 inches 8 inches) used to weave colorful rubber bands into bracelets, charms and a whole lot of other things (the possibilities are limited only by your imagination). It has push pin-type pegs over which small, colored rubber bands are looped and pulled by a rainbow loom crochet hook. The resulting looped knots, known as Brunnian links, can be assembled on the loom into bracelets and other shapes. The Rainbow Loom kit includes a pegboard, a rainbow loom hook, 24 special C-shaped clips, and 600 small rubber bands in assorted colors.
Rainbow Loom was created in 2011 by Ng Cheong Choon, a Malaysian Chinese who went to the United States in 1991 to attend Wichita State University, where he earned a graduate degree in mechanical engineering. He was employed as a crash-test engineer for Nissan Motor Company in 2010.
Ng Cheong Choon's story of how he came to invent the toy fad begins much like that of former Malaysians who head for greener pastures after being allegedly deprived by racial quotas in Malaysia.
He dreamed of becoming an engineer, but he could not get into Malaysian local university, because Malaysia's race-based quota system limits the number of ethnically Chinese students. He had to leave Malaysia to go to university.
Graduating in 1997 with a master's in mechanical engineering, he decided to stay on in the Unites States to start a career in crash safety in the US motor industry as Malaysia was hard-hit by the 1997 Asian Financial Crisis.
He conceived the idea of a toy loom for rubber-band crafting after seeing his young daughters playing with bracelets made of rubber bands that kept falling apart. He tried to show them how they can link the rubber bands together but was unsuccessful, so he stuck a scrapboard with multiple rows of pushpins on which the bands can be linked more easily. The bracelets became popular with the neighborhood children, and his daughter suggested that he sell them.
Applying both his childhood memories of skipping ropes made from linked rubber bands and his engineering know-how, he spent six months developing the loom kit and designed 28 different versions. His prototype, which he called Twistz Bandz, used a wooden board, pushpins, and dental hooks. He invested his entire savings of $10,000 to order tooling and 2,000lb (910kg) of rubber bands from China. He and his wife assembled the kits themselves in their garage in June 2011. Ng renamed his product after discovering an elastic hair band on the market named Twist Band. His brother and niece came up with the name Rainbow Loom.
Cheong Choon's brother Cheong Yeow, also a Wichita State graduate, helped Cheong Choon test some of his engineering by creating prototypes of Cheong Choon's designs on 3D printers at WSU's National Institute for Aviation Research.
Efforts to sell the loom online and to convince toy stores in Michigan to stock the bands were unsuccessful, however, because customers did not understand how to use the product. Cheong Choon started a website and filmed instructional YouTube videos in which his daughters and niece demonstrate the loom bands. The YouTube videos later spread across the Internet, planting the seeds of what would later become a toy phenomenon.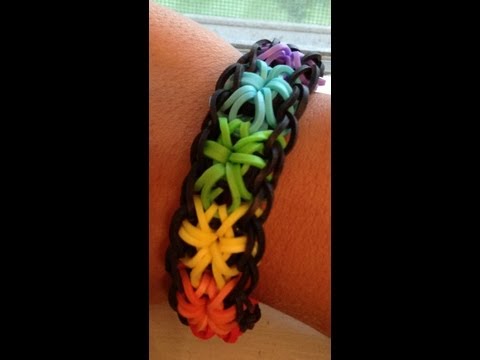 Cheong Choon received his first order for a dozen loom kits in July 2012 from franchises of Learning Express Toys, a specialty crafts chain, before the same toy store in Georgia came back with a US$10,000 order.
In June 2013 arts and crafts retail chain Michaels test-marketed the product in 32 stores; by August the chain was carrying Rainbow Loom in its 1,100 U.S. locations. Rainbow Loom is also sold at Mastermind in Canada and in specialty stores. As of August 2013, 600 retailers were selling Rainbow Loom at a retail price of $15 to $17. The kits are manufactured in China, and Ng supervises distribution out of a 7,500 square feet warehouse near his home.
In 2013, Ng worked with The Beadery and Toner Plastics to produce the Wonder Loom, a redesigned version of the Rainbow Loom that is made in the United States. The Wonder Loom is sold by Wal-Mart. In April 2014, a travel-sized version of the Rainbow Loom was released called the Monster Tail.
Cheong Choon's "Rainbow Loom" went on to register over US$40 million in sales last year, a figure he expects to double this year. It was named one of the three most popular toys of 2013 by Cyber Monday Awards and was the most-searched toy on Google that same year, and was described in a 2014 BBC News article as "one of the most popular toys in the world".
The wild popularity of the Rainbow Loom spawned many imitations that are cheap and of poor-quality. Most of the knockoffs attempted to replicate the Rainbow Loom exactly, right down to realistic re-creations of the images on the toy boxes.
A British laboratory has discovered that the material in some of the illegal knockoff versions may contain cancer-causing chemicals. Laboratory researchers also found that the real Rainbow Loom toys – rubber band bracelets – don't contain those dangerous chemicals.
The Toy Industry Association in February 2014 named Rainbow Loom the Toy of the Year. The toy got more national publicity when television talk show host Jimmy Kimmel wore a suit on his show made entirely from Rainbow Loom bracelets.
During her tour of New Zealand in 2014, the Duchess of Cambridge was seen wearing a Rainbow Loom band bracelet, leading to a spike in sales in UK schools.
Want to order your Rainbow Loom? Go to their website rainbowloom.com