An amazing three-minute video, set up by stuntman Devin Graham, that features a group of adrenalin thrill-seekers swinging through the Corona Arch in Moab, Utah, has gone viral with more than 2.5 million views since it was uploaded to YouTube 3 days ago.
The pendulum-style swing was made from 150ft of rope which was looped around an overhang. The swing itself was anchored by five different ropes. Stringent safety checks, including a test-run with a bag of rocks attached to the swing, were carried out before anyone jumped.
The daredevils buckled themselves in for the ride of their life before their jump which involved 130ft of freefall with the rope taking the riders up around another 100ft after that.
An array of cameras was used to capture the moment, including GoPros by the jumpers themselves to show it from their perspective. Other gadgets included a Canon 5D Mark II, Canon 7D, Canon 60D, Epic Red One and an iPhone 4S.
Devin and his team are no strangers to stunts – their previous efforts include the Human Slingshot Slip and Slide which shows them being flung into a lake, a 35ft bike jump and crazy water jetpack antics.
The death-defying antics were filmed over two days and even involved a marriage proposal. After one woman completed her ride, her boyfriend dropped down to dangle by her side and propose. Happily, she said 'yes'.
Watch the amazing video of adrenalin junkies taking the plunge on world's largest rope swing, Hey, even the rock seems surprised!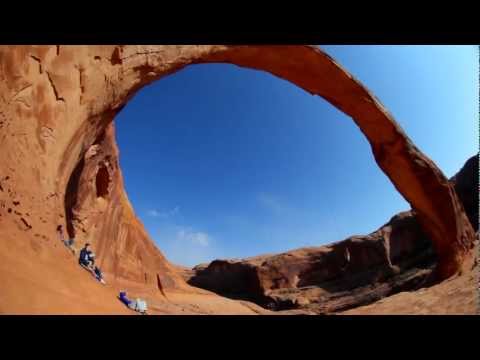 A separate behind-the-scenes video reveals the lengths they went to in order to make sure the stunt was safe – with one joker saying: 'We Googled.'