A 31-year-old barmaid from North Wales last night wowed the X Factor's judging panel and won herself a standing ovation from both the judges and audience with her stirring rendition of Whitney Houston's One Moment In Time in X Factor auditions in Manchester.
Taking to the stage in a leopard print top, Samantha Brookes took the time to tell Louis Walsh she has a crush on him, wiggling her bottom at an astonished Louis. She spent a lot of time talking, prompting Gary Barlow to shift her on a bit.
As soon as the music started, Samantha was transformed from being a joker to an amazing singer, belting out her very emotional rendition of the Whitney Houston hit and reducing her family and friends backstage to tears.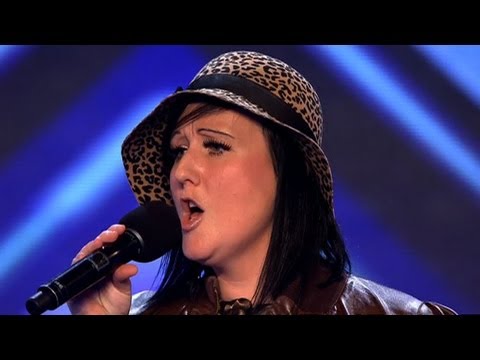 Sami revealed that she felt her size let her down in her bid to be a singer, saying "I was always a little bit under-confident because you see artists like Rihanna and Beyonce."
Ex-Destiny's Child star Kelly Rowland was quick to reassure Sami, telling her: "You don't have to change anything and you know what your size is honey? Sexy. You size sexy."
Adding that she was too 'excited' up to return to her seat after a standing ovation, Kelly added: "If I could crowd-surf right now, I totally would,"
Gary Barlow loved the rendition, commending that it was 'absolutely amazing' and adding that as well as the 'big' belted notes, he also loved how 'pure and beautiful' her quieter parts were.
Louis Walsh asked Sami: "Where have you been hiding?"
As expected, Samantha Brookes received four yes votes from the judges from the judges and advanced to boot camp stage.